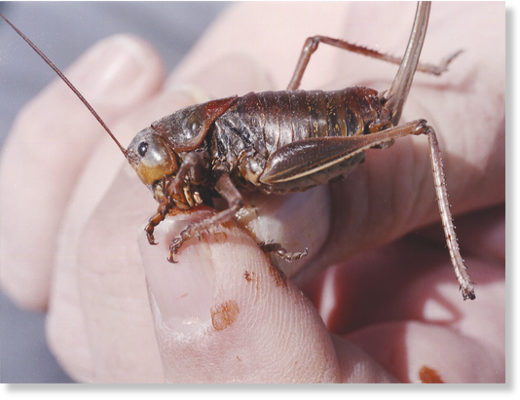 Farmers in the U.S. West face a creepy scourge every eight years or so: Swarms of ravenous insects that can decimate crops and cause slippery, bug-slick car crashes as they march across highways and roads.
Experts say this year could be a banner one for Mormon crickets — 3-inch-long bugs named after the Mormon pioneers who moved West and learned firsthand the insect's devastating effect on forage and grain fields.
The U.S. Department of Agriculture's Animal Plant Health Inspection Service reports "significantly higher Mormon cricket populations" on federal land in southwestern Idaho, agency spokeswoman Abbey Powell wrote in an email to The Associated Press.
"There isn't a clear explanation why populations are so much higher this year," Powell wrote. "We know that populations are cyclical. ... In Idaho, in a few locations, we have seen populations as high as 70 per square yard."
The bugs can start to be detrimental to rangeland and crops when they number about 8 per square yard, state officials said.