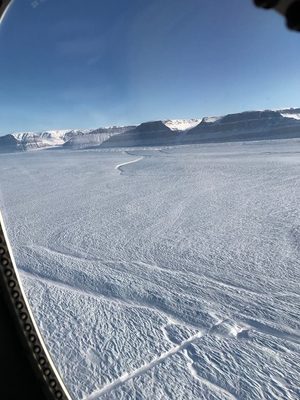 A team of NASA researchers have snapped a photo of the long crack in the Petermann Glacier along the northern coast of Greenland. There is a chance that the new crack could meet an older one and split off an ice island twice the size of Manhattan.
The researchers are members of Operation IceBridge, a nine-year NASA research mission to monitor polar ice through the use of specialized aircraft. Planes equipped with cameras and other scientific instruments canvas the ice coverage and formations in Antarctica as well as Greenland.
Stef Lhermitte, an associate professor of geoscience with the Delft University of Technology in the Netherlands discovered the crack close to the town of Qaanaaq in the northernmost reaches of Greenland.
Since then, weather satellites have been monitoring the crack for signs of development.
NASA and other scientific bodies are concerned about it because the crack is unusually close to the center of the Petermann Glacier.
Typically when a glacier fragments, it does so at its edges.
Nobody is sure why the glacier is doing this. Lhermitte's theory is that warm water is trapped underneath the glacier core, but he doesn't know how it would have got there. He said in a statement that it was "amazing to see the rift from nearby after studying it from space for several days." However,
"from these images alone it is difficult to already say anything about what exactly caused the crack on this unusual spot."