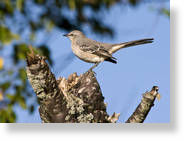 A hostile environment and inconsistent weather may explain why some birds become better singers than others, and are also likely to have superior learning and mating skills, according to a new study.
The research is based on a large-scale study of mockingbirds in different habitats carried out by researchers at the National Evolutionary Synthesis Centre (NESCent) in Durham, North Carolina, the Cornell University Lab of Ornithology, and McGill University.
"As environments become more variable or unpredictable, song displays become more elaborate," said Carlos Botero, a postdoctoral researcher at NESCent.