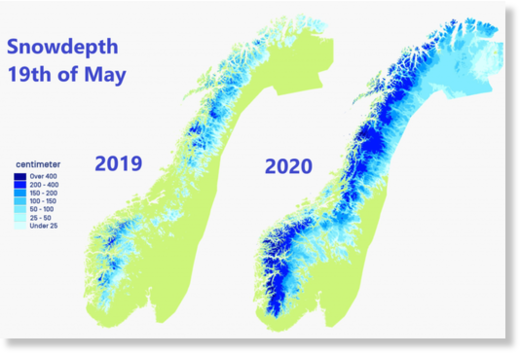 Recently released data from the Norwegian government has revealed this past winter was Norway's snowiest for over 60 years. And now, news website
latestfromeurope.com
reports that preparations are being put in place to deal with the "huge flooding this summer as the snow melts" — an event climate alarmists will no doubt cite as further evidence of their imagined heat-induced Apocalypse, so look forward to that...
According to official government data, you have to go all the way back to 1958 to find a winter with more snow than 2020.
In addition, the month of May is continuing that snowy trend, seeing "more than three times as much snow as usual in many places," said Heidi Bakke Stranden, spokeswoman for the Norwegian Water Resources and Energy Directorate. "Where it's usually one meter, it's three meters today. Compared to last year it is like night and day," she added.