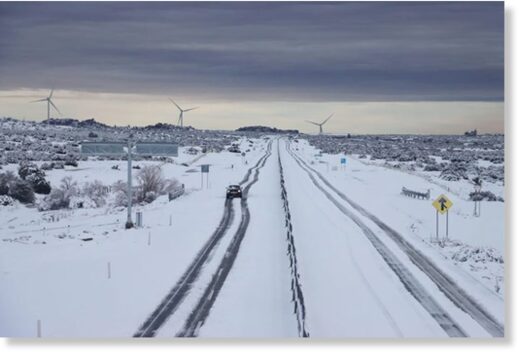 The fifth winter storm of the season has hit northwestern Mexico,
causing heavy snow in Baja California that has shut down highways and forced local schools to close.
The Centinela-La Rumorosa highway, the main route along the U.S. border, was temporarily closed in both directions on Tuesday morning, after heavy snowfall that started on Monday night in the town of La Rumorosa in the municipality of Tecate. Local authorities have set up a temporary shelter and are coordinating with the Red Cross to provide assistance to those who need it.
As of shortly before 11 a.m. local time, the state transportation ministry announced that the Centinela-La Rumorosa highway was open in both directions. The La Rumorosa-Tecate free highway was also open in both directions while the La Rumorosa-Tecate tollway remained closed, the ministry said.