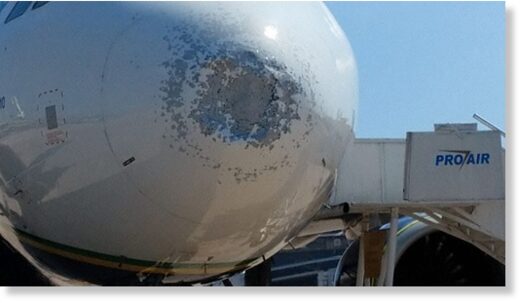 An Azul Linhas Aereas Airbus A320neo performing a domestic flight on November 15th, 2020, in Brazil had to divert after suffering a hail strike that affected certain instruments onboard the aircraft. The aircraft safely landed at Rio de Janeiro's Galeão Airport, though the aircraft faced some visible damage.
The incident
On November 15th, an Airbus A320neo for Azul performing flight AD 4194 from Curitiba to Rio de Janeiro's Santos Dumont Airport ran into a hail storm on approach, according to a report in the Aviation Herald.
While descending and approximately 20 nautical miles (~37 kilometers) out from the airport at 4,500 ft (~1,372 m), the crew decided to abort the approach due to a nail strike. After climbing, the aircraft diverted to another airport in Rio, Galeão Airport, and landed there safely.