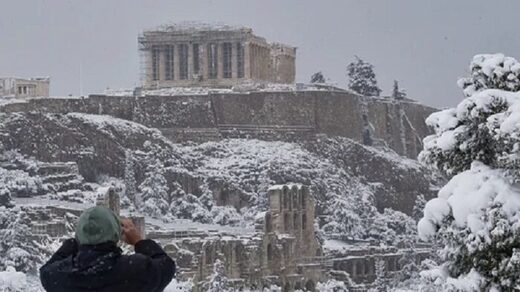 Three people died on Tuesday as heavy snowfall fell and gale-force winds hit Greece, disrupting road and sea transport as well as halting Covid vaccinations in Athens.
The cold front, dubbed "Medea" after the mythical Greek sorceress of the Argonauts, sent temperatures plunging, with a maximum low of minus 19 degrees Celsius in the northwestern city of Florina.
"The last time we saw so much snow in the centre of Athens was in February 2008,"
meteorologist Costas Lagouvardos told AFP.
On the island of Evia near Athens, two elderly men suffering from respiratory problems died after their breathing apparatus failed during a power outage, state TV ERT reported.
On Crete, a livestock farmer in his 60s was found dead in the snow outside his granary at the village of Kaminaki in the east of the island, TV ERT added.