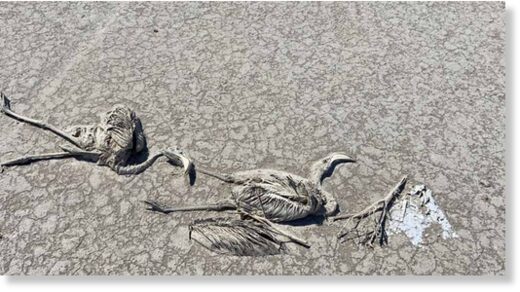 Hundreds of baby and adult flamingos were found dead on a dried part of Lake Tuz (Salt Lake) in the central Turkish province of Konya over the past week, prompting renewed emphasis on the impact of drought on the ecosystem.
The lake - the second largest in Turkey and one of the largest hypersaline lakes in the world - is among the favorite habitat of migratory animals and has long been a hatching ground for flamingos. Though it is shallow and gets little precipitation throughout the year, its salty nature is conducive to the nesting of migratory birds. However, the drought stemming from climate change has led to a recession of lake's waters, making finding food a challenge for flamingos.
Carcasses of birds now dot the lake's parts in the Cihanbeyli district of Konya. The birds had arrived to the lake in March for their incubation season. Mehmet Emin Öztürk, a nature photographer who is a frequent visitor to the area in the summer, says Lake Tuz had been "a paradise for flamingos, but now (it has) turned into a nightmare."