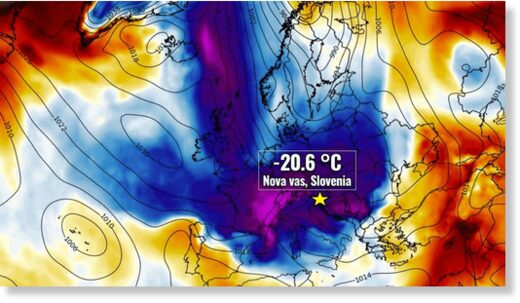 Many areas in Slovenia reached their coldest April morning over the last 100 years! The official meteorological station Nova vas na Blokah peaked at -20.6 °C which has set a new all-time national record for the month of April since the records began.
Numerous extreme cold records also across other parts of central and western Europe, deep freeze and morning frosts have been destructive.
As we expected, the weather models were not wrong this time. An unpreceded extreme cold has verified across many parts of Europe this Wednesday morning, following the significant and historic snow a day before
. Snowfall with some accumulation was reported even at the seaside in Slovenia and Croatia islands (Kvarner area).
In Slovenia, the weather station Nova vas na Blokah hit -20.6 °C and set the new official lowest temperature for April (the previous record at the station Nova vas was -18.0 °C set on April 4th, 1970). There was another record of -26.1 °C recorded with an unofficial weather station in the village Retje near Loški Potok.