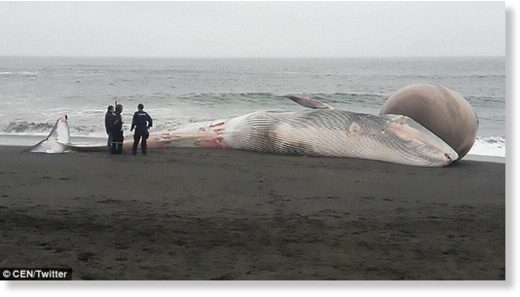 This is the moment tourists flocked to see a dead whale - despite warnings a huge swelling coming out of its head could explode at any moment.
The giant carcass was discovered washed up on a beach in Pelluhue, in the central Chilean region of Maule.
Although the whale is about 52ft long, pictures show how an enormous balloon-like swelling dwarfs its entire head.
Thought to be a minke whale, the carcass has attracted tourists and scientists - but there are already fears it could explode.
President of the Vets of Wild Fauna Association Betsy Pincheira said: 'The protuberance is caused because of the common decomposition process. It is an accumulation of gas, generally methane.
'I wish people would not approach because this could explode.'