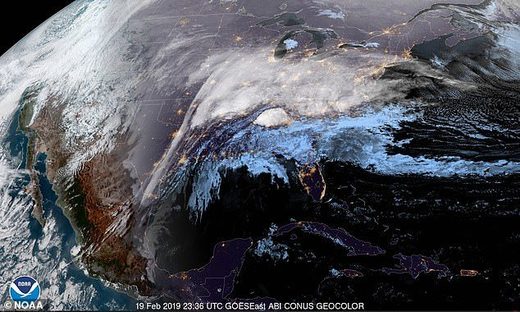 A massive winter storm with more than 200 million people in its path is bearing down on the East Coast.
Heavy flooding rains falling on much of the Deep South on Tuesday night are expected to change over to ice and snow as the system hits the mid-Atlantic and Northeast on Wednesday.
The storm is expected to affect parts of 39 states, and roughly 60 percent of the country's population is in its path.
'Snow will move from southwest to northeast into Ohio and the Mid-Atlantic region late tonight, changing to a wintry mix of sleet and freezing rain and eventually all rain for many,' the National Weather Service said in a flash bulletin on Tuesday.
The agency said that the time of changeover from snow to ice would vary by location, but would be delayed in the Central Appalachians, where significant ice accumulation of a quarter inch along with four to eight inches of snow could be possible.
'Major cities along I-95 from Boston to Richmond will likely see some from of frozen precipitation at the onset before changing over to rain,' the agency said.