This past November broke many records, from fireballs to floods to unseasonable snow in both hemispheres of our planet.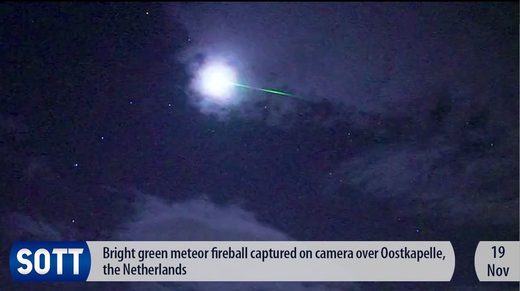 After an unusually strong X class solar flare and unusual solar activity back in September, possibly related to a series of powerful earthquakes above 7.0 mg in New Caledonia and Mexico; this month was marked by three earthquakes in Iraq/Iran, Chile and South Korea, that caused widespread damage. Meanwhile the volcanic activity seems to have reached a seasonal peak (yes, soon we'll have to start talking about 'Volcano season'!.
These increased geological phenomena, and the official predictions of earthquake activity increase in 2018 due to the slow down of earth's rotation, have left affected people with a feeling of dread.
Droughts also hit Portugal and Spain last month, while sheets of water fell in South America, Australia and in most parts of Asia. All this at a time when meteorologists are finding themselves having to use the term 'atmospheric phenomena' because rainfall just doesn't cut it anymore.
Trumpet sounds and portents in the sky were seen as harbingers of interesting times in the past, from the social and political arena, to significant cosmic events. So fasten your seat belt folks, because it seems that things are going to get rough.