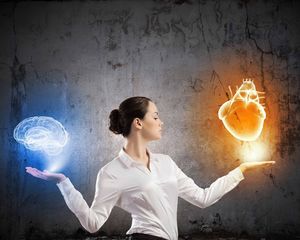 The intuition's most important role is that it alerts us to the path, people, and circumstances that we will uniquely find fulfilling.
Our intuition will tell you intimate and important things nobody else will—and it will also tell you things your own mind will argue with. As a culture, we have learned to believe that being rational is what should prevail when making decisions.
But what about our "inner voice," our gut feeling—that "little something" instinctual from within, which tells us how we feel beneath those layers of logic?
Intuition can be either a moment where you instinctively know if something IS right—or isn't right. It's our inner voice that "that just knows," and it does understand what uniquely, sometimes seemingly illogically, will make you happy. It bridges the gap between between instinct and reason, between the conscious and unconscious mind.
Science tells us that only 20 percent of the brain's gray matter is used for conscious thoughts, while 80 percent is dedicated to non-conscious thoughts.