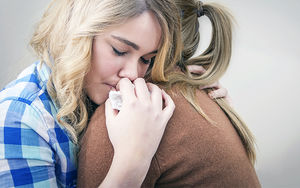 I learned something valuable this week that I would like to share it with you. But first, a little reflection on something I wrote last week, because it's connected to what I learned this week.
In a recent post on my blog I wrote about "How to respond to those we love when they are in pain." I've had a few people thank me for the words I suggested because they don't always know what to say to someone who's suffering.
In this same vein, I also recently watched a
Dateline
episode about newscaster Tom Brokaw, who shared his experience and what he learned through his recent battle with cancer.
One thing he found upsetting was how people responded to him as he suffered with his disease. He said no one could empathize unless they'd also had cancer. I think what he was trying to say was that he felt people didn't understand what he was going through during his incredible challenge with the disease
. I believe that he may have experienced people "trying to make someone feel better when they are suffering," which ultimately made him feel as if people did not understand what he was going through.