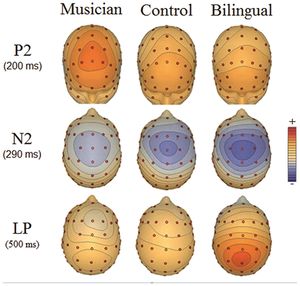 Have you ever thought about everything that goes into playing music or speaking two languages? Musicians for example need to listen to themselves and others as they play, use this sensory information to call up learned actions, decide what is important and what isn't for this specific moment, continuously integrate these decisions into their playing, and sync up with the players around them.
Likewise, someone who is bilingual must decide based on context which language to use, and since both languages will be fairly automatic, suppress one while recalling and speaking the other, all while continuously modifying their behavior based on their interactions with another listener/speaker. All of this must happen quickly enough for the conversation or song to flow and sound natural and coherent. It sounds exhausting, yet it all happens in milliseconds!
Playing music or speaking two languages are challenging experiences and complex tasks for our brains.
Past research has shown that learning to play music or speak a second language can improve brain function
, but it is not known exactly how this happens. Psychology researchers in a recent
PLOS ONE
article
examined how being either a musician or a bilingual changed the way the brain functions. Although we sometimes think of music as a universal language, their results indicate that the two experiences enhance brain function in different ways.