Archaeologists have found a stone tool assumed to be an early calendar dating back 4,000 years in a cave in the northern province of Tuyen Quang. The stone tool, with 23 parallel carved lines, seemed to be a counting instrument involving the lunar calendar, Prof Trinh Nang Chung from the Viet Nam Archaeology Institute told
Viet Nam News
.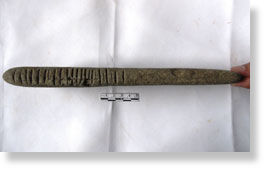 A similar tool was found in Na Cooc Cave in the northern province of Thai Nguyen's Phu Luong District in 1985, Chung said. Similar items have been found in various areas in the world, including China, Israel and the UK, suggesting that people 5,000 years ago knew how to calculate the lunar calendar by carving on stones.
The stone tool was found in a tomb marked with 14 large stones laid at a length of 1.6m. Bones were found under the stones but no skull was found, with Chung guessing that the skull may have decayed due to the humidity in the cave.
A number of other stone tools were buried with the corpse, he added.