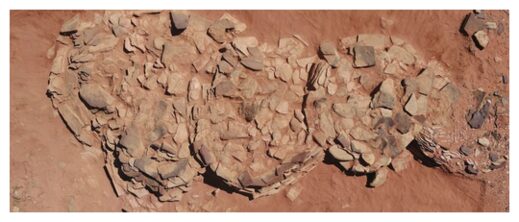 We might be getting closer to understanding why hundreds of large stone structures were built across the deserts of northwest Saudi Arabia thousands of years ago.
According to an in-depth new analysis, the mysterious, rectangular enclosures were used by Neolithic people for
unknown rituals,
depositing animal offerings, perhaps as votives to an unknown deity or deities. Excavations have revealed hundreds of fragments of animal remains, clustered around an upright slab of stone interpreted as sacred.
The roughly 7,000-year-old monuments known as
mustatils
(an Arabic word meaning rectangles) have baffled archaeologists since attracting scientific attention in the 1970s.
It wasn't until 2017, however, that the full extent of their spread across the Arabian Peninsula was revealed in the
first scientific paper
documenting their discovery. Aerial surveys have aided in the identification of
over 1,600 mustatils, sometimes in groups, scattered throughout the desert.
Nicknamed 'gates' because of their appearance from the air, mustatils were
described in that paper as
"two short, thick lines of heaped stones, roughly parallel, linked by two or more much longer and thinner walls."
They consist of two short, thick platforms, linked by low walls of much greater length, measuring up to 600 meters (2,000 feet), but never more than half a meter (1.64 feet) high.