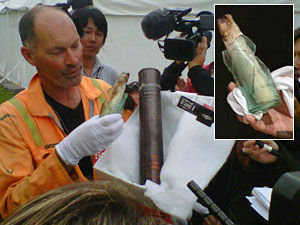 Contractors working in the Christchurch Square area have unearthed two artefacts, exposed by the force of the 6.3 quake a week ago.
Christchurch Mayor Bob Parker presented the two time capsules at a media briefing today - and says he hopes they will serve as a symbol for the city's recovery.
The capsules, a glass one with a hand-written letter on gold parchment inside, and the other yet to be opened but in a metal container, were found beneath a statue of founding citizen John Robert Godley at Cathedral Square.
It was found by one of the crane operators for Daniel Smith Industries (DSI) and his boss said his first thought was to contact Parker.