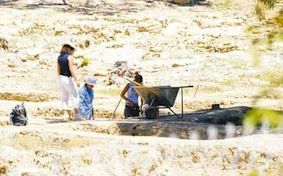 Archaeologists exploring the Agora (market) of ancient Paphos have found a small tablet with the name of an official in Greek and a plethora of other artefacts including a golden pendant, it was announced this week.
"The most spectacular finds are a golden earring or pendant, ending in an ivy leaf, bronze objects such as a jug, a ladle with an iron handle, bronze ring, numerous coins, pins and other artefacts," the department of antiquities said. "The most notable artefact among the lead objects - apart from a ladle with an iron handle, similar to the one uncovered last year, and weights - is a small tablet with Greek inscription mentioning the official - - Seleukos, son of Agoranomos (market administrator) Ioulios Bathylos.
Paphos was the capital of Cyprus in the Hellenistic and Roman periods.