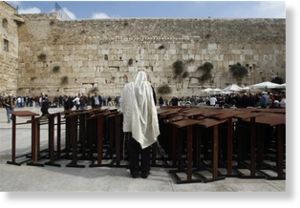 Israeli archaeologists on Wednesday said they had found ancient coins that overturned widely-held beliefs about the origins of Jerusalem's Western Wall, one of Judaism's holiest sites.
For centuries, many thought the wall was built by King Herod - also infamous, in the Christian tradition, for his efforts to hunt down the baby Jesus in the original Christmas story.
But archaeologists said they had found coins buried under the wall's foundations minted 20 years after King Herod's death in 4 B.C., showing the structure was completed by his successors.
The find will mean a re-think for the city's army of tour guides.
"Every tour guide ... grounded in the history of Jerusalem" had replied "Herod" when asked who built the wall, the Israel Antiquities Authority said in a statement.
"This bit of archaeological information illustrates the fact that the construction of the Temple Mount walls and (the adjacent) Robinson's Arch was an enormous project that lasted decades and was not completed during Herod's lifetime," the Authority added.
The authority said academic historians were already aware of an account by the Jewish historian Josephus that the wall was completed by Herod's great grandson.
But that report had done nothing to dispel the popular story that Herod completed the wall and the coins were the first hard evidence to back up Josephus's version.