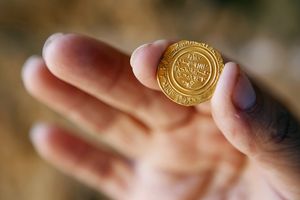 A rare stash of gold coins was discovered hidden beneath a floor tile in a fortress outside Tel Aviv.
Israeli archeologists this week discovered one of the largest gold stockpiles ever found while digging in an ancient castle that hosted some of the major battles of the Crusades.
The cache - discovered in a broken pottery vessel hidden under a floor tile - contained 108 gold coins which archeologists have estimated to be worth over $100,000. Researchers told UPI that crusaders probably hid the treasure trove from invading Muslim conquerors in the mid 13th Century.
"It is a rare find. We don't have a lot of gold that had been circulated by the Crusaders," Oren Tal, a Tel Aviv University professor who leads the dig, told
Reuters
.
Many of the coins - which were discovered by one of Tal's students in a fortress known as Apollonia about 15 miles north of Tel Aviv - were minted around 1000 A.D., according to the
Jerusalem Post
. How the roughly 400 grams of gold made its way to Israel is still unknown, but the currency will be studied over the next six months, Tal said.
The castle of Apollonia, which was then called Arsur, belonged to the Christian Order of the Knights Hospitaller during the time in which researches believe the cache was hidden. It first came under Crusader control after England's King Richard the Lionheart defeated Muslim leader Saladin there in the 12th Century.
According to legend, the fort was retaken by Muslim forces around 1265 after what records indicate was a protracted battle. The recent discovery corroborates this story according to researchers.
"The findings indicate a prolonged siege and a harsh battle that took place at the site," Tal told the Post.