Where is the real proof - archeological evidence, state records and primary sources?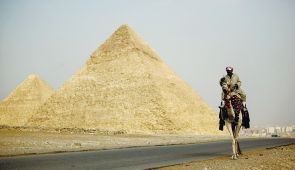 Here's a question for you: what do actor Charlton Heston, DreamWorks animation studios and Former Prime Minister Menachem Begin all have in common? Well, they've all, at one time or another, perpetuated the myth that the Jews built the pyramids. And it is a myth, make no mistake. Even if we take the earliest possible date for Jewish slavery that the Bible suggests, the Jews were enslaved in Egypt a good three hundred years after the 1750 B.C. completion date of the pyramids. That is, of course, if they were ever slaves in Egypt at all.
We are so quick to point out the obvious lies about Jews and Israel that come out in Egypt - the Sinai Governors claims that the Mossad released a shark into the Red Sea to kill Egyptians, or, as I once read in a newspaper whilst on holiday in Cairo, the tale of the magnetic belt buckles that Jews were selling cheap in Egypt that would sterilize men on contact - yet we so rarely examine our own misconceptions about the nature of our history with the Egyptian nation.