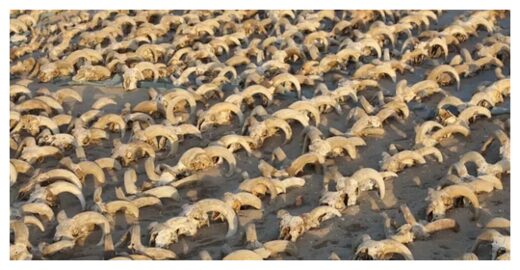 More than 2,000 mummified ram heads and a palatial Old Kingdom structure have been uncovered by archaeologists at the King Ramses II Temple of Abydos.
The finds, located roughly 270 miles south of Cairo, come from a period of over 1,000 years, from the Sixth Dynasty to the Heroic Age, making some of the discoveries over 4,300 years old.
In addition to the ancient ram's head, archaeologists from the University of New York
also discovered a group of mummified dogs, wild goats, cows, deer and an ostrich.
The mummified remains are believed to have been left at the site to honor Ramses II about 1,000 years after his death, the Egyptian Ministry for Tourism and Antiquities
said
.
It is thought that the rams and other animals would have been used as offerings during worship of the rams in Abydus during the Bipidus period, Dr Sameh Iskandar, head of the mission added in a statement.