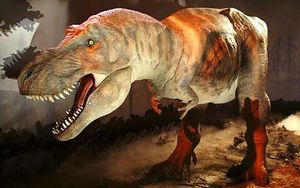 Our knowledge of dinosaurs is increasing all the time. Here are a list of the most recent discoveries.
Dinosaur Extinction
Dinosaurs survived for more than 700,000 years after the earth was hit by a massive meteorite originally believed to have caused their extinction, according to new research.
Tests on a fossilised bone of a plant eating dinosaur discovered in New Mexico found that it was only 64.8 million years old.
Scientists
at the university of Alberta, Canada, said it is possible that in some areas the vegetation wasn't wiped out and a number of hadrosaur species survived.