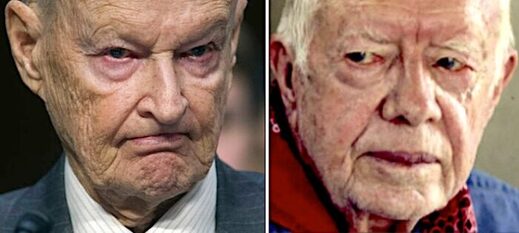 If ever there was a man who displayed on his face the evil in his mind, it was Zbigniew Brzezinski, the national security advisor for President Jimmy Carter when the US plot to start the war against the Soviet Union on the Afghan front was hatched in 1979.
"Now we can lure the Russians into the Afghan trap,"
he wrote Carter in a secret note of February 1979.
In July of that year he
followed
with the directive Carter signed in secret to supply arms to the mujahideen "to induce a Soviet military intervention".
In December 1979 Brzezinski
told
Carter:
"we should not be too sanguine about Afghanistan becoming a Soviet Vietnam".
Later he used to boast that had been precisely his intention and also his crowning achievement.
Brzezinski's lips are sealed now because he's been dead for four years.
Carter is still alive.
In 1979 he kept the evil on his mind secret behind the smile on his face. His lips are sealed now, since the retreat from Afghanistan began by the US Army, and after the rout last month in Kabul. The mainstream American press are not reporting they have asked Carter for comment, or that he has refused. Not even the alt-media investigators have pursued him.