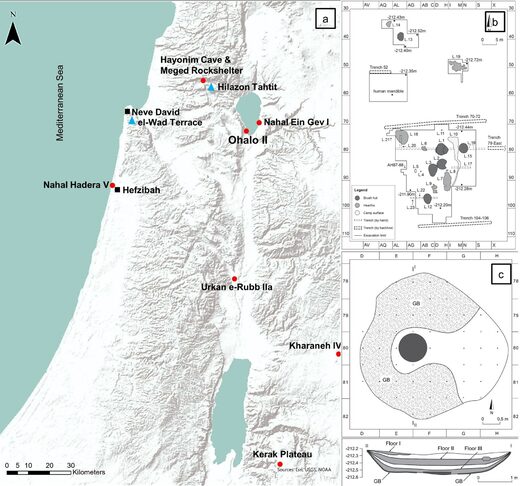 A new article published today in
PLOS ONE
by a Hebrew University of Jerusalem (HU)'s Institute of Archaeology team and colleagues focused on the remains of
a previously submerged fisher-hunter-gatherer camp on the shores of the Sea of Galilee from around 23,000 years ago
. Through a close analysis of the abundance, variety and through use of animal remains, the team concluded that these survivors of the latest Ice Age
thrived whereas most of their contemporaries, in other parts of the world, were nearly starved, due to the Earth's extremely cold temperatures
.
Comment:
As Pierre Lescaudron details in
Of Flash Frozen Mammoths and Cosmic Catastrophes
, since then, a series of cataclysmic events have shifted our planet's latitude:
The above strongly suggests that before the Younger Dryas, the North geographic pole was located around Hudson Bay, which is about 60° North - that is; 30 degrees in latitude away from the current North pole.

But the peculiar Laurentide ice sheet is not the only evidence we have. The study of fossils provides a very good idea of what kind of plants and animals lived in different locations of the planet right before the Younger Dryas. This research tends to confirm that, at the end of the Pleistocene, the North pole was located in Hudson Bay.

Indeed, before the Younger Dryas, the Arctic Ocean was a temperate ocean (as indicated by the presence of Foramainifera in sea cores), Siberia was a temperate region (as indicated by human remains, entire forests and temperate flora), and Japan was warmer than today (as indicated by flora that grows in temperate climate and by the corals of Okinawa).
The Israeli site, known as Ohalo II, was occupied at the end of the last Ice Age ("Last Glacial Maximum"), between 23,500 and 22,500 years ago.
Ohalo II is known for the excellent preservation of its brush huts and botanical remains.
The study, led by HU doctoral student Tikvah Steiner, under the supervision of HU Professor Rivka Rabinovich and University of Haifa archaeologist Prof. Dani Nadel who excavated the site, examined the diet and extensive use of animal parts to determine the welfare and lifestyle of these ancient inhabitants.