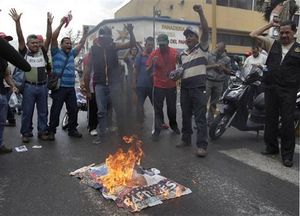 President-elect Nicolas Maduro and his opposition rival traded accusations Tuesday over blame for post-election violence that the government said had caused seven deaths and 61 injuries across Venezuela.
Maduro accused the U.S. of fomenting the violence, which appeared less serious than he suggested, while opposition candidate Henrique Capriles accused him of creating a smoke screen to divert attention from the opposition's insistence on a vote-by-vote recount of Sunday's surprisingly close vote.
In Washington, the U.S. State Department backed that demand, saying it would not recognize Maduro without a recount. It was joined by the governments of Panama and Paraguay.
Maduro, the chosen heir of the late Hugo Chavez, spent the day on state TV at various events demonizing Capriles as "a murderer" and coup plotter. He also heaped blame on Washington - always a popular target of Chavez, the leader Maduro served as foreign minister for six years.