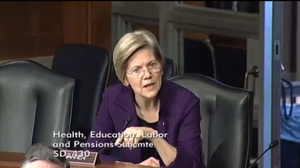 While most Americans think of poverty in material terms, said the senate's lone independent, its effects were more insidious and long-lasting.
The U.S. Senate subcommittee on primary health and aging met Wednesday morning to discuss the effects of poverty and stress on children, communities and health in America.
"Stress and poverty, wondering how I'm going to feed my family tomorrow, pay my bills get the income I need to survive, takes a toll on human life," said Sen. Bernie Sanders (I-VT).
Recent studies have shown that stress caused by poverty can influence brain development in children and lay the groundwork for physical health problems that show up later in life.
"Lack of choice and the increased stress that low-income people experience increases their level of cortisol (the primary stress hormone), and we know that higher levels of cortisol are correlated with cardiovascular disorders and other chronic illnesses, including diabetes," said Michael Reisch, a professor of social justice at the University of Maryland.