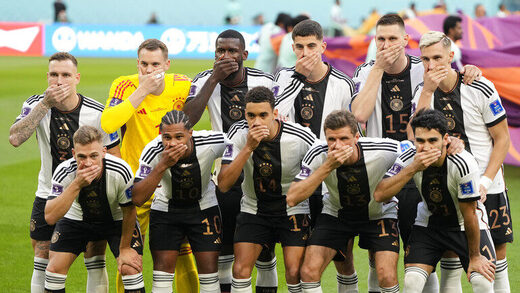 As German fans struggle to come to terms with the 'absolute catastrophe' of their team crashing out of its second consecutive World Cup, some are blaming the team's focus on LGBTQ issues as a major distraction leading to defeat.
Just last month,
Germany's football powerhouse flew into Qatar on wings of glory, with its Lufthansa aircraft emblazoned with the logo 'Diversity Wins', setting the tone for what would become more of a hectoring lecture tour than any sporting event.
Once on Arab ground, the footballers from Team Germany continued to court dissent in their host country, Qatar, which criminalizes homosexual conduct, by attempting to wear 'One Love' armbands in support of gay rights. When FIFA voted down this social justice promotion, the German team had their group photo taken with their hands over their mouths as a "silent act of rebellion."
But just as fast as they touched down in Qatar with their message of tolerance, they were already packing their bags after suffering a humiliating early defeat. They were beaten on the pitch, fair and square, not in the cultural war - but the casual observer could be excused for forgetting that the main game of the World Cup is supposed to be football, and the main job of the German (or any other) team is to kick the ball, not their hosts. Some observers, like former Russian national team coach Valery Gazzaev, even argued that the Germans lost because they were more focused on preaching than playing.