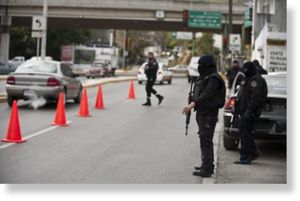 At least eight people were killed in a pair of attacks in northern Mexico, authorities said Sunday, including a shooting at a bar in Monterrey just hours after the opening of soccer's Under-17 World Cup.
Gunmen stormed the bar in Mexico's third largest city late Saturday and "executed three people," wounded another, and kidnapped a security guard at the bar who was later found dead, an official of Nuevo Leon state's investigation agency told AFP.
Four other people, 18-25 years old, were killed Sunday morning in Guadalupe, a city adjacent to Monterrey.
"The victims were gathering in front of one of their homes when armed men showed up in several vehicles and shot them," the official said.