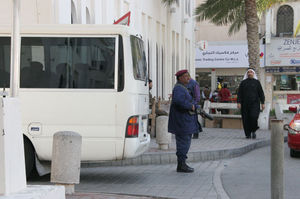 Minor clashes reported from parts of kingdom as security forces remain on alert over planned day of protests.
Small-scale clashes have been reported from parts of Bahrain amid heightened security over planned protests by the kingdom's disgruntled Shia majority.
Protesters have called for a "Day of Rage" to be observed on Monday, inspired by anti-government uprisings in Egypt and Tunisia.
Helicopters circled over the capital Manama, where protesters were expected to gather in the afternoon, and there was greater police presence in Shia villages.
At least 14 people were injured in clashes overnight and on Monday, news agencies reported.
The reports said police used tear gas and rubber bullets to disperse marchers in the mostly Shia village of Newidrat in the southwest region of the island kingdom - a key Western ally. The marchers were demanding the release of those detained during earlier protests.
Nabeel Rajab of the Bahrain Centre for human rights told Al Jazeera: "We are only asking for political reforms, right of political participation, respect for human rights, stopping of systematic discrimination against Shias.