Police have reopened the inquiry into the death of a wealthy British businessman who is feared to have been executed by a contract killer.
Barry Pring, 47, was decapitated by a speeding car as he waited for a taxi in Ukraine in 2008.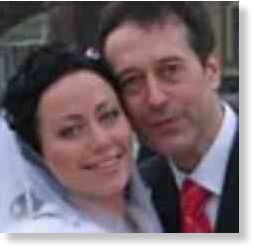 His ex-stripper wife, Ganna Zuizina, 29 - who had left the scene moments before the tragedy - is fighting for a share of his estate, estimated to be worth £1.5million.
Barry's family believe he was murdered and have spent £100,000 on legal fees to try to get to the bottom of the case and to stop his internet bride inheriting his cash until the mystery is solved.
His death was dismissed as a hit-and-run accident by Ukrainian police and the inquiry was closed in 2010. But it was relaunched after pressure from his family who hope it will now be classed as murder.
The Prings say Barry's marriage to Ganna was "odd" and "a sham".
Barry, from Devon, met Russian Ganna online in 2006 and months later they married at a register office in Ukraine's capital, Kiev.
But Barry, who owned an IT business, went back to work in London and Ganna stayed in Ukraine.
By the time he was killed as they celebrated their first anniversary, they had only spent three weeks together.
Yesterday Barry's brother Shaughan said: "We believe there has been police corruption in the Ukraine. His widow has been given legal aid in the UK to come over here to claim my brother's assets. It is ludicrous and outrageous."
He added: "They did not act like a newly-wed couple.
"They did not hold hands, look at each other in the eye or smile at each other. It was odd. Her family claim we snubbed the wedding, we didn't - we were never invited."
Barry flew to Kiev to visit Ganna for four days to mark their anniversary. They went for dinner and he stumbled out of the restaurant - his family think he was drugged.
He lurched on to the hard shoulder of a dual carriageway at midnight trying to summon a taxi.
His family say Ganna went back to the restaurant to fetch her glove before a car doing 80mph on the hard shoulder hit Barry and dragged him 100 yards.
The businessman has still not been laid to rest at his family home because of a row between the Prings and Ganna over his ashes.
Barry did not make a will and his family say Ganna came to London immediately after his death and began trying to get hold of his assets which included three properties in London and two in Kiev.
Ganna and her family deny any involvement in Barry's death.