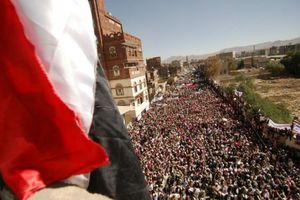 As the uprising in Yemen enters its eighth day, four pro-democracy protesters have been killed in the southern port of Aden and scores were reported injured across the country.
On Thursday, riot police gunfire killed four protesters and injured 17 others in Aden, where around 3,000 people held pro-democracy rallies.
In capital Sanaa, 40 people were injured when some of President Ali Abdullah Saleh's loyalists, some of whom armed with guns, attacked a crowd of protesters.
Saleh has described the pro-democracy protesters that demand his ouster as "elements of a coup."
Meanwhile, the government has planned a million-man counter rally across the country in a show of support for the president.