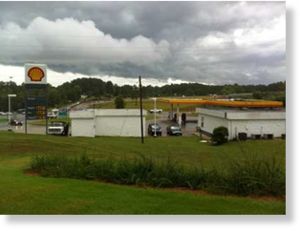 A woman dropped off her three children ages five and under along the side of I-65 in Blount Count this morning, then disappeared into the woods, leaving her car and clothing behind.
The Blount Count Sheriff's Department investigated the bizarre series of events. They discovered the woman, Summer Delane Chaney, around 3:30 p.m. Wednesday after searching for hours in the woods where she was last seen.
State troopers from Mobile County issued a lookout call for Chaney's vehicle this morning. The woman's family members contacted authorities because they were concerned about her and her children's welfare. Mobile state troopers asked other law enforcement agencies to check on the woman and her children if they were found.
Around 9:30 a.m., Blount County deputies responded to the Shell station off of the Hayden/Corner exit on I-65 in Blount County. Chaney pulled off the interstate and into the gas station, where she dropped off two of her children, a five-year-old and two-year-old.
According to Sheriff Loyd Arrington, she then got back on the interstate, pulled over on the side of I-65 just past the Hayden exit, and flagged down an individual.
Chaney handed a man a 9-month-old baby, told him "I've got to go save the world," and took off by foot into the nearby woods.
Deputies found the parked vehicle abandoned on the side of I-65. They found the woman's skirt and blouse discarded in the woods nearby. This afternoon, deputies located the woman and took her into custody. Chaney is charged with child abandonment and child endangerment.
All three children are safe and currently in custody of the Department of Human Resources.