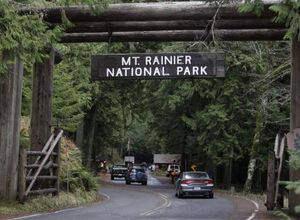 Mount Rainier National Park says a climber who spent the night on the mountain after an accident has started walking down with rangers.
Spokeswoman Patti Wold says the park still hopes a helicopter will be able to pick her up and recover the body of a ranger who was killed Thursday during the rescue of three other members of her climbing team.
Wold says the weather may prevent the Chinook from Joint Base Lewis-McChord from flying. It's raining at the ranger station at Longmire. The National Weather Service says it's snowing above 10,000 feet.
A Mount Rainier ranger slid more than 3,000 feet to his death as he helped in efforts to rescue four injured climbers who fell on a glacier, a National Park Service spokesman said.
Ranger Nick Hall was helping prepare the climbers to be taken from the 14,411-foot Washington state peak when he fell shortly before 5 p.m. Thursday, spokesman Kevin Bacher said.
The 34-year-old Hall didn't respond to attempts to contact him and wasn't moving, and he was dead when other rangers reached him at the 10,000-foot level several hours later, Bacher said.