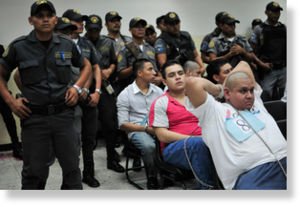 A 13-year-old Mexican drug cartel hitman was found dead along with five other people.
Univision reports that Jorge Armando Moreno's body showed signs of torture when he was found near the town of Morelos.
Moreno - who was a member of the Los Zetas gang - was arrested earlier this month, along with 15 other suspects, and confessed to taking part in 10 executions.
He was released into his family's custody because he was too young to be criminally prosecuted. Zacatecas state law says no one under the age of 14 can be subject to criminal prosecution.
"It would have been better for him if we'd been able to keep him in custody," state prosecutor Arturo Nahle told
The Sun
.
The child's mother is reportedly among the other people found dead. Three other unidentified women and one man were also found.
Earlier this week, a group of armed men broke into a prison and freed 12 prisoners in the state of Tamaulipas on the border with Texas.
The state attorney-general's office says at least 15 gunmen seized the guard watching the entrance of the prison in Miguel Aleman Tuesday morning.
The prisoners had been charged with homicide, robbery, rape and acting as lookouts for drug gangs.
Mexico has suffered a series of prison breaks in recent years. One of the largest, the flight of 131 in the state of Coahuila in September, was blamed on the Zetas cartel, which also controls much of Tamaulipas.