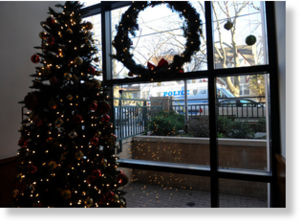 A state tax agent who specialized in investigating the trafficking of illegal cigarettes was shot to death by her husband, a former New York police officer, the authorities said on Sunday.
The body of the investigator, Tracey Young, 42, was discovered by the police and paramedics shortly after 11 p.m. Saturday in her apartment on the eighth floor of 143-41 84th Drive, in Briarwood, Queens. She had been shot several times in the head and torso, and was pronounced dead at the scene.
Early Sunday, Ms. Young's husband, Clarence Cash, 49, turned himself in to the police and was charged with murder and criminal possession of a weapon, according to a spokeswoman for the Queens district attorney's office.
Ms. Young worked in the Criminal Investigations Division of the New York State Department of Taxation and Finance. She was involved in surveillance work and undercover stings against illicit cigarette importers. "She was an energetic, enthusiastic, constantly upbeat investigator," said William Comiskey, a former deputy commissioner of the department. "Her focus was on combating bootleg cigarettes, and it put her into regular contact with people who had the potential for doing violence. She is really going to be missed."