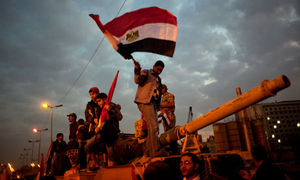 Egypt's new military administration and the pro-democracy protesters who brought down Hosni Mubarak were at odds today over the path to democratic rule.
The army sought to stave off pressure from jubilant protesters to swiftly hand power to a civilian-led administration by saying that it is committed to a "free democratic state".
The military leadership gave no timetable for the political transition, and many of the demonstrators who filled Cairo's Tahrir square for 18 days rejected the military's appeal to dismantle the barricades and go home.
They said they were waiting for specific commitments from the military on their demand for a civilian-controlled interim administration, the lifting of the oppressive state of emergency and other steps toward political liberalisation.