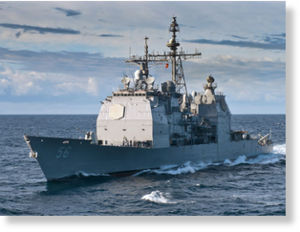 The United States Fleet Forces Command said in a news release that the submarine
Montpelier
and the cruiser
San Jacinto
collided about 3:30 p.m. Saturday during a training exercise. No one was injured and both ships were able to continue to operate under their own power, Navy officials said.
Nevertheless, the extent of any damage to the vessels was not clear, said Lt. Cmdr. Brian Badura of the Fleet Forces Command.
"We have had circumstances where Navy vessels have collided at sea in the past, but they're fairly rare as to how often they do take place," Commander Badura said. Navy officials said the collision was under investigation, but declined to offer specifics on where it occurred.
The
Montpelier
arrived at Naval Submarine Base Kings Bay in southern Georgia, he said in a statement late Sunday. The
San Jacinto
arrived at Naval Station Mayport in Jacksonville, Fla.