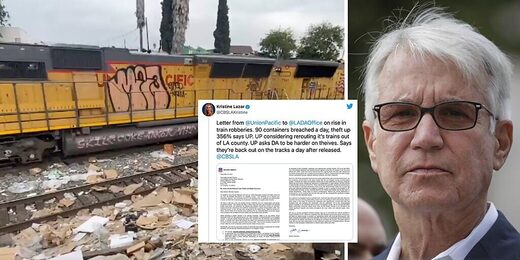 After it was revealed that freight cars in Los Angeles train yards have been repeatedly ransacked, with the contents, primarily packages, discarded for miles along the tracks, Union Pacific (UP) blamed the catch-and-release policies of leftist prosecutors in LA. The losses in 2021 account for "approximately $5 million in claims, losses, and damages to UP," not including costs to customers.
In a letter to LA District Attorney
George Gascon
, Union Pacific's Adrian Guerrero said that in LA,
"Criminals are caught and arrested, turned over to local authorities for booking, arraigned before the local courts, charges are reduced to a misdemeanor or petty offense, and the criminal is released after paying a nominal fine."
Gascon
faces
a
recall effort
as well as
no-confidence
votes from local leaders.