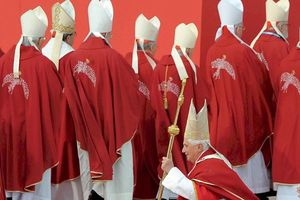 Weltbild, one of Germany's largest publishing companies, happens to be owned and operated by the Catholic Church. But that has not stopped it from publishing books that many of the faithful find offensive
.
"Weltbild," Germany's largest media company, sells books, DVDs, music and more -- and also happens to belong 100% to the Catholic Church. Few people knew about this connection until this month when
Buchreport
, a German industry newsletter, reported that the Catholic company also sells porn.
A Church spokesman responded: "Weltbild tries to prevent the distribution of possibly pornographic content."
Well, it's prevention efforts have apparently not been so successful.
For more than 10 years, a group of committed Catholics has been trying to point out what is going on to Church authorities, and they are outraged at the hypocrisy of the spokesman's statement.
In 2008, the group sent a 70-page document to all the bishops whose dioceses have shared ownership of Weltbild for 30 years, detailing evidence of the sale of questionable material.