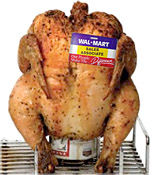 Newlywed shoppers claim Wal-Mart's false accusation that they tried to steal $2.90 worth of chicken neck bones caused the wife to be falsely arrested and lose her job, her husband to be deported, and both to lose their car, all their possessions and their house - though Wal-Mart's security video showed they had paid for the damn chicken bones.
Mary Hill Bonin sued Wal-Mart and several of its managers in Jefferson County Court.
Bonin says the imbroglio ensued when she went shopping at the Adamsville Wal-Mart on July 1, 2007, with her husband of 2 months, who was not yet a U.S. citizen.
They used the self-checkout counter to save time.
Bonin says the scanner would not register the $2.90 worth of chicken necks, so she asked a Wal-Mart employee for help. The employee checked the machine and told her "it's okay," according to the complaint.