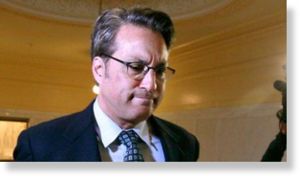 San Francisco's new sheriff is vowing to fight domestic violence and other misdemeanor charges that prosecutors allege are related to a New Year's Eve incident with his wife.
Sheriff Ross Mirkarimi faces one count each of domestic violence battery, child endangerment and dissuading a witness, San Francisco District Attorney George Gascon said Friday.
Mirkarimi was booked at San Francisco County Jail, said San Francisco police Sgt. Michael Andraychak. He was released on $35,000 bail. A police mugshot showed Mirkarimi with his eyes closed.
The sheriff, 50, vowed to remain in office while he fights the charges. He told reporters outside his office Friday afternoon the he denies the allegations.
"The charges are very unfounded," he said calmly. "We will fight the charges."
"We are cooperating," he said.