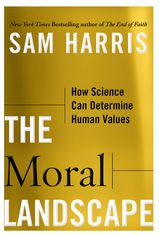 The goal of this book is to begin a conversation about how moral truth can be understood in the context of science. There is an epidemic of scientific ignorance in the United States. This isn't surprising, as very few scientific truths are self-evident and many are deeply counter-intuitive."
So writes Sam Harris in his latest best-seller, "
The Moral Landscape: How Science Can Determine Human Values
." Harris is co-founder and CEO of Project Reason, a nonprofit foundation that advocates for science and secular values; he has degrees in philosophy and neuroscience from Stanford University and UCLA. His previous books include "
The End of Faith
," which won the PEN Award for Nonfiction in 2005, and "
Letter to a Christian Nation
."
At the heart of "
The Moral Landscape
" is the notion that all human values have their genesis in the natural order and, as such, we do not need "God" or anything else to define concepts of right and wrong or to otherwise make judgments about the inherent efficacy of different behaviors. To illustrate this point, he examines a number of values that tend to be common to people in most societies. For instance, acting in one's own self-interest has often been characterized as being beneficial from an evolutionary perspective. Conversely, most religions tend to articulate, in one way or another, that cooperation and empathy for others are higher-order aspirations that allow us to transcend our more primal tendencies.