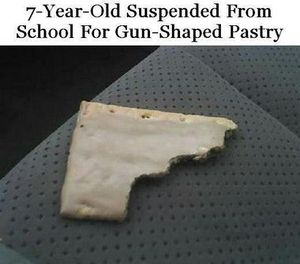 Children at Park Elementary School went home with a letter today explaining there was a disruption in school.
Seven year old Josh Welch, and his father, say the disruption lead to a two day suspension for the second grader in Brooklyn Park.
Academics are hard for Josh, who suffers from ADHD, but he excels in art class.
It is Josh's own creativity that may have gotten him into trouble. At Park Elementary school, Josh was enjoying his breakfast pastry when he decided to try and shape it into a mountain.
Josh said, "It was already a rectangle and I just kept on biting it and biting it and tore off the top and it kinda looked like a gun
but it wasn't.
" Josh takes full responsibly for trying to shape his breakfast pastry, but admits it was in innocent fun.

Comment: The fundamental point here, the basic 'common sense' intelligence at the heart of the matter, is that it WAS NOT A GUN! The seven year old grasped that; that adults apparently did not.

And "Josh takes full responsibly"? Number 1, it's 'RESPONSIBILITY' and Number 2, SINCE WHEN DID IT BECOME A CRIME OR IN ANY WAY SUSPICIOUS BEHAVIOUR FOR A 7-YEAR-OLD TO PLAY WITH HIS FOOD???


He told FOX45, "All I was trying to do was turn it into a mountain but, it didn't look like a mountain really and it turned out to be a gun kinda."
When his teacher saw the strawberry tart he knew he was in trouble, he recalls, "She was pretty mad...and I think I was in big trouble."
Josh's dad received a phone call from the school saying that Josh has been suspended for two days because he took his breakfast pastry and fashioned it into a gun.
Josh's dad was astounded to learn the school chose such a harsh punishment, even after no one was hurt.
Late Friday afternoon
a letter went home with students explaining the incident saying, "A student used food to make an inappropriate gesture."
But Josh's dad is not happy saying,
"I would almost call it insanity. I mean with all the potential issues that could be dealt with at school, real threats, bullies, whatever the real issue is, it's a pastry.., Ya know?"
Josh just wishes he could go back to class, but
maintains a good sense of humor through the whole debacle saying, "I didn't get to eat all my breakfast, so, really I am still hungry."