An elite hacker who was due to demonstrate how heart implants could be hacked has died unexpectedly in San Francisco.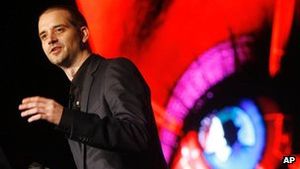 Barnaby Jack died on Thursday, the city's medical examiner's office told Reuters, but did not give more details.
He had been due to give a presentation into medical device vulnerabilities at the Black Hat security conference in Las Vegas taking place next week.
He had said one technique could kill a man from 30 feet (nine metres) away.
IOActive, the security firm at which Mr Jack was director of embedded devices, said it was preparing a statement.
In a tweet, the company said: "Lost but never forgotten our beloved pirate, Barnaby Jack has passed."
His sister Amberleigh Jack, who lives in New Zealand, told Reuters news agency he was 35.
Mr Jack became one of the most famous hackers on the planet after a 2010 demonstration in which he hacked a cashpoint, making it give out money. The technique was dubbed "Jackpotting".