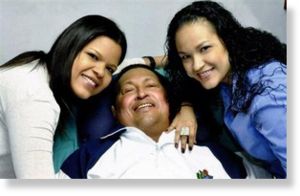 Venezuelan President Hugo Chavez made a surprise return from Cuba on Monday more than two months after surgery for cancer that has jeopardized his 14-year rule of the South American OPEC member.
The 58-year-old socialist leader underwent a six-hour operation in Cuba on December 11. He had not been seen or heard in public since then until photos were published of him on Friday.
"We have arrived back in the Venezuelan fatherland. Thanks, my God! Thanks, my beloved people! Here we will continue the treatment," Chavez said via Twitter after flying in.
There had been speculation Chavez was unwell enough to travel despite wanting to return for continued treatment for the disease he was first diagnosed with in mid-2011.