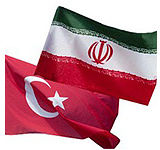 Iranian and Turkish officials in a series of meetings in Istanbul are due to explore avenues for further increase in economic cooperation between the two countries.
An Iranian trade delegation from the Northern Semnan province's Chamber of Commerce, Industry and Mine departed on Wednesday for Istanbul to expand the province's economic cooperation and trade with Turkey.
Members of the team will hold talks with their counterparts and partners to promote economic cooperation and trade during the one week visit to Turkey.
They will visit Polytan company in Istanbul as the largest Polymer company and hold talks with the Board of Directors of Etishkan Company which produces plasters for construction projects.
According to the figures released by the Turkish Statistical Institute, Iran became Turkey's third biggest business partner with a trade exchange of $17.52bln since the beginning of the current Iranian year (started on March 20, 2012).
Turkey imported $8.94 billion in goods from Iran, and exported $8.58 billion in goods to the Islamic Republic during this period.
Trade between Turkey and Iran has risen sharply over the past decade.
Turkey was Iran's fifth-largest oil customer in 2011, buying around 200,000 barrels per day, 30 percent of its total imports and more than 7 percent of Iran's oil exports.
The two countries' officials plan to mutual trade to $30bln by 2015.