Society's Child
Chris Hedges shuts down CBC Kevin O'Leary:


---
The town of Hull is considering restricting bike and pedestrian use on some of its roads, a measure one advocacy group says is illegal.

A town public safety committee, which examined general safety on town roads this summer, came up with a draft ordinance in September that requires biking, running or walking groups to register their travel plans with the town or bans them from using roads outright.

The ordinance is in response to what town officials say is a growing problem with road safety, but local groups are concerned about the impact on biking and running in the town.
---
Russell Goldman
ABC News
Wed, 05 Oct 2011 10:26 UTC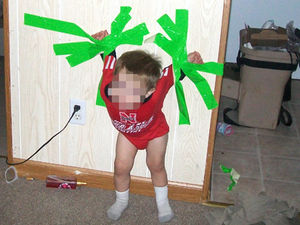 Photos of a teen mother and her boyfriend duct-taping her 2-year-old son to a wall have been made public by Nebraska prosecutors, weeks after they were convicted for the incident in which they took pictures of the toddler for fun.
The child, temporarily removed from his mother's custody, is again living with the mother, an 18-year-old admitted drug user.
Sentenced late last month, Jayla Hamm, who was 17 at the time of the abuse, received 10 days in jail and two years probation. Her boyfriend, Corde Honea, 19, an ex-convict, was sentenced to three to five years for child abuse and received an additional 12 to 24 months on felony possession of stolen firearms.
High on drugs, Hamm held the boy in place while Corde taped his body to the wall of their Beatrice, Neb., home using bright-green duct tape, authorities said.
In some of the photographs, the boy, dressed in a red onesie, is seen hunched over, unable to escape, his wrists firmly taped to the wall behind his back and above his shoulders.
---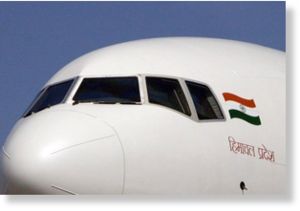 Hundreds of air travellers were left stranded after an incoming Air India flight was grounded for nine hours at London's Gatwick Airport by a combination of fog and aviation rules.
Police were called onto the Boeing 777 jet as tempers frayed among the 200 passengers after the airline prevented them from disembarking.
The flight from Ahmedabad via Mumbai was due to arrive at Heathrow, London's other major airport, at 08:00 local time (07:00 GMT) but was diverted to Gatwick due to fog.
The plane was unable to complete the 44-mile (70-kilometre) cross-city journey as aviation law limits the length of time for which flight crew are allowed to work in one shift.
---

Michael Scott Wilson's Perry Hall Home Searched

A Transportation Security Administration security officer is out on bail after he was arrested and charged with child pornography.

Michael Scott Wilson, 41, has been suspended from his job following the arrest.

Wilson was charged Monday with possession and distribution of child pornography after agents searched his Perry Hall home.

Neighbors said he's married with no children. They said they're stunned and disturbed by the charges, especially since most of them described Wilson as a straight-laced federal worker who took pride in his position and the trust that comes with it.

"As a parent, it's disturbing to find out that someone is living so close, especially employed in his capacity," said neighbor Malik Kelly.
---
Sott Editors
Sott.net
Tue, 11 Oct 2011 03:14 UTC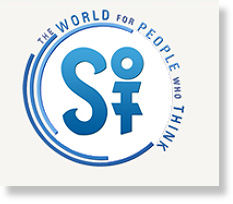 Dear readers,
You may have noticed that we have removed articles and updates on the investigation of SOTT.net by the Toulouse Police.
Our motivation in publishing these articles, which included details of our interviews by the police and our analysis of them, was to express our frustration and dismay at being unjustly denounced as a 'cult'. Having had time to reflect on the situation we have come to the following conclusion:
We believe that our initial response to being, as we see it, unfairly accused, was both normal and understandable. However, we do not believe that we can reasonably justify directing our frustration at the Toulouse Police, or any other official law-enforcement institution in France.
In short, we are willing to take it on good faith, that in pursuing an investigation of SOTT.net, the Toulouse Police are simply fulfilling, in the normal procedural way, their duty to pursue an official complaint they received. As such, we would like to make it clear that we are willing to co-operate with the Police investigation in any way that is required of us, in the hope that our own good faith in this matter is duly recognised as swiftly as possible.
We trust we can count on your continued support.
The Editorial Board of SOTT.net
---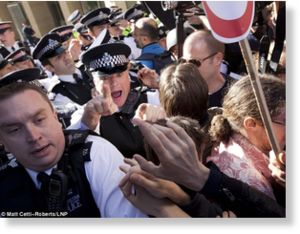 October 15, as I discussed in an earlier article, was
a global day of action
, with events taking place in 951 cities in 82 countries, inspired by the revolutionary movements in
Tunisia and Egypt
, the mass mobilization of
citizens in Greece
, and the
indignados
in Spain, which has taken off in America in recent months through "
Occupy Wall Street
."
In London, the plan was to occupy Paternoster Square, next to St. Paul's Cathedral, where the London Stock Exchange is situated, but from the moment I approached St. Paul's yesterday afternoon (at about 2.30 pm, cycling from London Bridge), it was clear that a clampdown was in place - with police vans everywhere, and lines of police blocking all the entrances to Paternoster Square, where notices had been posted, stating, "Paternoster Square is private land. Any licence to the public to enter or cross this land is revoked forthwith. There is no implied or express permission to enter the premises or any part. Any such entry will constitute a trespass."
When I finally found the crowd - in front of St. Paul's and spilling onto Ludgate Hill - I was delighted to see that thousands of people had turned up, but bitterly disappointed that the police had sealed off those closest to St. Paul's from everyone who arrived afterwards, and had shifted the focus of the event from the protestors to the police, and fears and doubts about what they would do.
---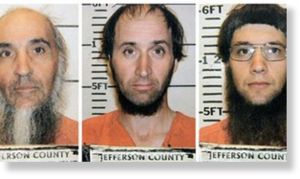 Leaders within Ohio's Amish community faced a soul-searching question after what they say were hair-cutting attacks against several followers of their faith. Should they cooperate with authorities or adhere to their beliefs of forgiving one another and keeping disputes private?
In the end, church bishops decided to seek help from the outside.
"They didn't feel they could get it stopped any other way," said Timothy Zimmerly, a sheriff in Holmes County where authorities say an Amish bishop and his son were held down while men from a breakaway Amish group used scissors and a clipper to cut their beards.
Five men were arrested and accused of cutting the hair of several people, offensive acts to the Amish, who believe the Bible instructs women to let their hair grow long and men to grow beards and stop shaving once they marry.
While the attacks in recent weeks might seem bizarre to outsiders, they have struck at the core of the Amish identity and tested their principles. They strongly believe that they must be forgiving in order for God to forgive them. Often that means handing out their own punishment and not reporting crimes to law enforcement.
---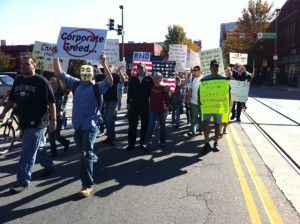 Little Rock - Hundreds of demonstrators marched through the heart of downtown Little Rock today, protesting against big corporations and government policies they said favor the super rich.
Organized by Occupy Little Rock in solidarity with the Occupy Wall Street movement in New York, more than 400 people from across the state gathered at the Riverfront Park amphitheater and set out marching on Markham Street at about 10 a.m., chanting slogans such as "We are the 99 percent and we are too big to fail."
One of the movement's main themes is that power and wealth are disproportionately concentrated among the richest 1 percent of Americans.
---

Three people have been charged following the discovery of four malnourished mentally disabled adults chained to a boiler in a locked northeast Philadelphia basement room that was too small for an adult to stand up straight and also reeked of waste from the buckets they used to relieve themselves, police said Sunday.

Officers were investigating a report of squatters in a building Saturday when they found three men and a woman in a 15-by-15-foot room behind a steel door that was chained shut. The subbasement room they were in called to mind a Cold War-era bomb shelter and contained a makeshift bed, mattress and sheets, said Officer Tanya Little, a police spokeswoman.

"It was horrible," she said Sunday. "The space was very tiny and confined."

Charges of criminal conspiracy, aggravated assault, kidnapping, criminal trespass, unlawful restraint, false imprisonment and related offenses were filed Sunday against Linda Ann Weston, 51, and Thomas Gregory, 47, both of Philadelphia, as well as Eddie Wright, 49, officially listed as homeless but originally from Texas. Listed numbers for the defendants could not be found Sunday and it was unclear whether they had attorneys.
---