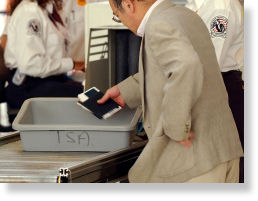 A Transportation Security Administration agent stole $5,000 in cash from a passenger's jacket as he was going through security at John F. Kennedy International Airport, authorities said Thursday, the latest in a string of thefts that has embarrassed the agency.
Alexandra Schmid took the cash from a Bangladeshi passenger's jacket as it went along an X-ray conveyor belt Wednesday night in Terminal 4, said Al Della Fave, spokesman for the Port Authority of New York and New Jersey's police force.
Surveillance video showed Schmid taking the money from a jacket pocket, wrapping the cash in a plastic glove and taking it to a bathroom, Della Fave said.
The money hasn't been recovered, he said. Police are investigating whether Schmid gave it to another person in the bathroom.
The 31-year-old Schmid was arrested on a charge of grand larceny and suspended pending an investigation. Her attorney's name wasn't immediately known.
Schmid, who lived in Brooklyn, had worked for the TSA for 4½ years, TSA spokeswoman Lisa Farbstein said.
"We do hold our officers to very high standards, and we have a zero tolerance policy for theft in the workplace," Farbstein said.
Wednesday's arrest came the same day that a federal judge sentenced former TSA screener Ricky German to eight months in prison for trying to steal a laptop from a passenger at the Memphis airport in December 2010. German was convicted of theft by a government employee, depriving a citizen of his rights and making false statements.
The cases are part of a series of recent theft allegations against TSA employees:
Last month, an agent who worked searching checked luggage at the Dallas-Fort Worth International Airport was suspended after the owner of a stolen iPad used the tracking feature on the device to locate it at the agent's home. Police found seven other iPads there.
On Jan. 10, former TSA agent Paul Yashou pleaded guilty to stealing a $15,000 watch from a passenger's belongings at Los Angeles International Airport in May. He is awaiting sentencing.
Two other former TSA agents at JFK were sentenced on Jan. 10 to six months in jail and five years' probation for stealing $40,000 from a piece of luggage in January 2011. The agents, Coumar Persad and Davon Webb, had pleaded guilty to grand larceny, obstructing governmental administration and official misconduct.
Also in January, authorities charged an agent at Miami International Airport with swiping items and luggage and smuggling them out of the airport in a hidden pocket of his work jacket. He was arrested after one of the items, an iPad, was spotted for sale on Craigslist. Another TSA employee was arrested in July at nearby Fort Lauderdale-Hollywood International Airport after an airline employee reported that the man slipped an iPad into his pants.
In December, police charged a TSA screener at New York's LaGuardia Airport with lifting a laptop after a Detroit-bound passenger left it behind at the security station.
Earlier last year, a TSA supervisor and one of his officers pleaded guilty in a scheme that lifted $10,000 to $30,000 from passengers' belongings at Newark Liberty International Airport. A federal judge sentenced the supervisor, Michael Arato, to 2½ years in prison and his subordinate, Al Raimi, to six months of home confinement.