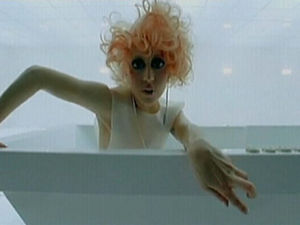 A 20-year-old Oklahoma woman was receiving treatment in a hospital Thursday after being charged with animal cruelty for allegedly killing the family cat and using the blood for an outfit she planned to wear to a Lady Gaga concert.
A relative of Angelina K. Barnes returned to her home in Oklahoma City and found the woman wearing a long coat, with her face covered in blood -- later determined to be cat's blood -- ready to attend the concert, KFOR reported.
The light switches in the house had been covered in duct tape to make them almost impossible to turn on.
It was later determined the cat had been drowned in the bathroom, before being sliced open and its eyes mutilated.
The liver of the animal was found in a makeup case on the bathroom's vanity.
Police said Barnes was taken to Griffin Memorial Hospital where she was receiving treatment. She did not attend the Lady Gaga concert.
Although Barnes was diagnosed with depression, neighbors said the violence was "completely out of character."