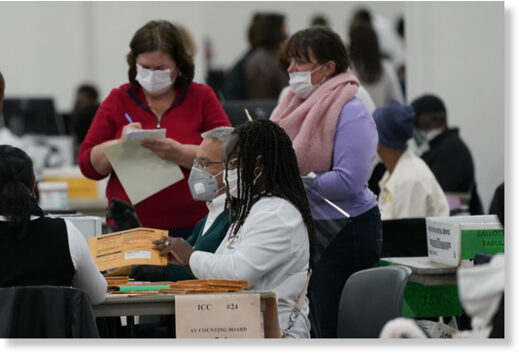 Michigan's most populous county reversed course on Nov. 17 and unanimously certified its Nov. 3 election results, shortly
after two GOP members of Michigan's Wayne County Board of Canvassers cast a vote against the move
which resulted in a deadlocked 2-2 vote.
The unanimous vote to certify the results came
on the condition that the secretary of state's office conduct a comprehensive audit
of the unexplained precincts across the county.
The abrupt reversal followed a Tuesday evening meeting, during which Board Chairwoman Monica Palmer and William Hartmann, both Republicans, initially cast votes against certifying the results, while Democrats Allen Wilson and Board Vice Chair Jonathan Kinloch voted in favor of certification.
Palmer had said her refusal to certify results for the county's 43 jurisdictions, including Detroit, was based on the fact that she and Hartmann believe that they "do not have complete and accurate information in those poll books."
She also said that while she would have been open to certifying election results in some jurisdictions,
others including Detroit — the state's largest voting jurisdiction — have recorded unexplained discrepancies
.
After the four board members cast their votes, Palmer and Hartmann listened to a number of spectators over Zoom, who criticized their decision,
The Associated Press
reported.