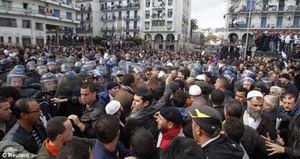 Estimated police figures outnumber demonstrators by three to one
Human rights activist says more than 400 arrested
Government cuts food prices and promises end of state of emergency to mollify demonstrators
Thousands of riot police arrested hundreds of demonstrators in the Algerian capital today as they tried to stop a banned pro-democracy rally a day after Egypt's authoritarian leader was toppled.
Armed police blocked off streets in Algiers and set up security barricades at strategic points along the march route and outside the city to try to stop busloads of demonstrators from reaching the capital.
Armed police were also posted near newspaper headquarters.
Organisers of the march estimated some 10,000 people had flooded Algiers, where they skirmished with riot police attempting to block off streets and disperse the crowd.