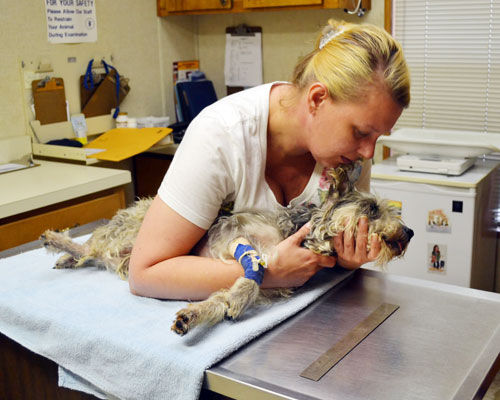 Joshua Gray of Sylva, a Frontier Communications employee, has been charged with misdemeanor cruelty to animals after a June 17 incident, according to the Jackson County Sheriff's Office.
Pepper, an 8-year-old miniature schnauzer owned by Gina and John Rarick of Dillsboro, sustained severe brain injuries after Gray hit her with a large test phone, according to Gina Rarick.
Pepper is currently in the care of Sylva Animal Hospital during the day, but Gina Rarick takes her home at night. Pepper's condition is unstable, but she can walk, and by early this week, Pepper was doing better, Gina Rarick said.
"She can walk but she walks in circles. That's the brain damage," she said. "She'll probably always walk in circles."
Frontier technician Gray came to the Rarick's residence, a Smoky Mountain Hideaway rental cabin, to run a phone line to one of the cabins, according to Nick Dunn, godson of the cabins' owner Betty Ashby. Gray arrived around noon on June 17, Gina Rarick said.
Gina Rarick said her husband told Gray to stand back while he put up their two dogs, Pepper and Spunky, but that Gray continued walking.
"He disregarded what my husband said," Gina Rarick said.
According to Gina Rarick, Gray walked over to the dogs, raised the phone over his shoulder and hit Pepper in the head "as hard as he could."
Dunn, 18, gave a similar account of how Gray hit Pepper, saying that Gray "clubbed her in the side of the head just once" and that the dog "crumpled and started going into seizures."
After the blow, Gina Rarick said Gray had "a scared look on his face" and said "I'm sorry" before he "sauntered off."
Deputy Dwight McMahan of the Sheriff's Office responded to the scene after receiving a call about a possible fight, according to a Sheriff's Office statement.
McMahan interviewed John and Gina Rarick as well as Gray, and then met with the district attorney's office later that day, according to information from the Sheriff's Office.
The DA's office determined there was insufficient evidence to prosecute Gray at the time, but on June 22 asked McMahan to interview two more witnesses, the statement said.
After those interviews the office agreed to prosecute and on June 24, John Rarick swore out a criminal summons for misdemeanor cruelty to animals against Gray, according to information from the Sheriff's Office.
A deputy served the summons the same day.
Gray's court date is July 12.
Citing the advice of his attorney, Gray declined comment Tuesday afternoon.
Rarick said other witnesses include her 4-year-old son, who is still disturbed by the incident.
"He's not sleeping at night, asking these painful questions about the dog," she said.
Dunn, who lives at the cabins with his mother and godmother, said the attack was completely unprovoked. At 15 pounds, the dogs aren't dangerous at all, he said.
"Everyone here has dogs, and they all bark, so we're used to it," he said.
Pepper was originally taken to the Regional Emergency Animal Care Hospital in Asheville.
Frontier agreed to cover the costs for any medical care Pepper might need, Rarick said.
Frontier's initial response to the event is that it was in self-defense.
In an e-mail posted on the recently created blog "Please Help Pepper," Frontier Vice President John Swallow writes to a blog reader:
"I agree that striking a dog is deplorable. Our employee was surprised and nipped by the dog and reacted. No excuse. Frontier immediately agreed to pay the vet bills. Our hearts go out to the family who we have spoken to directly. We are investigating the entire incident and will act appropriately. Our employee is very distraught. I am a fellow dog lover and dog owner and understand your response."
Another Frontier employee expressed the same sentiments in a comment on the blog's first post.
John Swallow couldn't be reached for comment, but Don Page, Frontier communications manager for the Southeast region, spoke on his behalf and said Frontier is still investigating the incident and gathering information from multiple sources to determine what happened.
"I don't want to pre-judge it," he said. "We're taking this matter seriously. We regret what happened."
Page said that Swallow's comments on the event are "one perspective," but the investigation is still going on.
According to Page, Frontier employees, like most utility workers, are given training on how to handle animal situations on work sites, and they are provided with pepper spray.
The methods are based on law enforcement advice, Page said, and one approach is to put a barrier - such as a tool - between oneself and the hostile animal.
"Different situations call for different kinds of responses," he said. "At some point, protecting yourself from an animal is important."
Page said company policy precluded him from commenting on whether Gray had been suspended.
Gina Rarick said the Frontier statement about the employee's surprised reaction was "an absolute lie" and "a coverup on their part."
"There's no element of surprise to this. I saw it with my own eyes," Rarick said. "I'll fight this as far as I can fight it."
Dunn agreed that hitting the dog was a clearly calculated act.
"I have no idea why he did it; he walked over there like he knew what he was going to do," Dunn said. "There was no hesitation in the way he acted."