In the summer of 2010, I saw him several times a week: a portly gentleman, leaning against a pillar in Penn Station and holding out two fistfuls of pamphlets to the disinterested commuters. He wore glasses and earbuds connected to an MP3 player in his coat pocket, and always had a serene, almost bored expression that was in sharp contrast to the urgency of his message: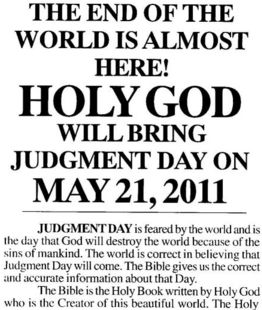 He was one of the devotees of Harold Camping, a formerly obscure Christian preacher who started making headlines in 2009, when he announced his discovery of a numerological code hidden in the Bible that foretold the exact date of the end of the world. As the appointed date grew nearer, Camping's devotees became increasingly zealous in their race to get the message out. In addition to their leafletting volunteers, I saw billboards and subway ads. Their Web site had a form you could fill out to request free literature, bumperstickers and desk calendars for 2011 that ended the third week of May.
One day, I stopped for a brief chat with the fellow.
"May 2011," I observed. "That's soon."
"Uh-huh," he said, uncertain whether I was making fun of him.
"What happens on that day?" I asked.
"The universe will cease to exist," he explained, as calm as if he were delivering a weather forecast. (I have to admit, I was hoping for something more dramatic: boiling oceans, rains of fire, rivers turned to blood, that sort of thing.)
"What happens if that date comes and you're still here?" I persisted.
"I'll be in big trouble," he said calmly.